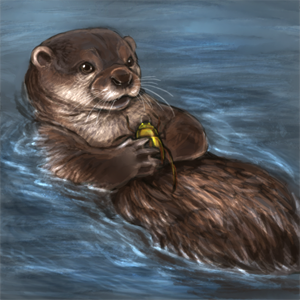 Why hello there..
Having fun in the water, are we?
My friends and I are finding some quite interesting items in the floods, and we'd be happy to trade them to you in exchange for some of those tasty Silver Beetles you've got there..
We're always finding different things, so keep checking back with us. We might have something new!
Items will clear at midnight and midday LD server time. Make sure to purchase the items you want as they may not appear again for a while!
Perhaps you'd like to help the playful otters find some lunch?
The Flood Pit is a special shop that only appears during Wet Season on Lioden. If it is available, there will be a clickable banner above the Crossroads map to take you to the Flood Pit. The items in the Flood Pit reset at 12am and 12pm Lioden time every day for each player. Once the items have reset, you will see the following option.
Scavenged Items
Once you click that button on Lioden, a randomised selection of five items will be shown to you. If none of them are to your liking, you will have to wait until the next Flood Pit reset for different items to circulate in.
The Flood Pit is a restructured year-round shop that was previously only available during the old June flooding event, which used Dive Beetles. Should you have any Dive Beetles left over from the old June event, you can trade in your Dive Beetles for Silver Beetles at a 1:5 Dive Beetles to Silver Beetles ratio.
Common Items
African Sharptooth Catfish

Tigerfish

Vundu

Abbott's Skimmer

African Bullfrog

African Clawed Frog

African Common Toad
African Spoonbill

Arum Lily Frog

Azazel the Goat

Baby Crocodile

Back Fog

Banded Rubber Frog

Banded Water Cobra

Big Clay Rocks
Big Shale Rocks
Black-Necked Grebe

Blue Crane

Blue Hawker Dragonfly

Broadleaf Cattail

Camouflaged Snake

Cape Giraffe Calf

Cattle Egret

Common Brown Water Snake

Common Rain Frog

Common Rain Spider

Common Reed Frog

Dead Goliath Tigerfish

Dotted Reed Frog
Drizzle

Dwarf Bittern Pair

Eared Vernonia

Eastern Olive Toad

Event Scar: Worn Paws

Featherfin Squeaker

Flopping Garfish

Flopping Pindu

Flying Pennant-Winged Nightjar

Fog

Fog Swirls

Foggy Aura

Fruit Bats

Giant Lobster Roach

Goat Pelt

Goat Skull Decor

Green Panic Grass

Grey Foam-Nest Tree Frog

Ground Fog

Hadada Ibis

Hairy Slit-Faced Bat

Hamerkop

High Fog

Iberian Ribbed Newt

Impala Calf

Isihlobane

Jackal Pelt

Kelp

Light Rain

Marsh Mongoose
Misty Haze

Mossy Fur

Mossy Stones

Natal Fig Tree

Nile Perch
Nitsche's Bush Viper

Nyala Calf

Olive Striped Frog

Orange Climber

Paperback Acacia

Peacock Tree Frog

Perished Wildebeest

Phantom Quartz Necklace

Rain

Rattling Bird

Red Forest Duiker

Red Rockdweller

Resting Crocodile

Rising Water

Running Lechwe

Scavenging Otter

Silver Long-Fingered Frog
Sitatunga Calf

Sitatunga Female

Slaty Egret

South African Shelduck

Spotted Snout-Burrower

Spur-Winged Goose

Steelblue Widowfinch

Strong Skimmer

Suni

Swamp Hibiscus

Swynnerton's Reed Frog

Tasty Bayad

Tinker Reed Frog

Wandering Shoebill

Washed Up Log

Water Reeds

Water Wave

White Lotus

White-Backed Duck

White-Lipped Frog

William's Dwarf Gecko

Uncommon Items
Augrabies Falls
Barotse Floodplains

Botswana Floodplains

Busanga Flood
Flash Flood

Flood Aftermath

Flooding Gorge

Hadejia-Nguru Wetlands

Lake Chivero

Lake Kivu

Livingstone Falls
Lorian Swamp
Lukanga Swamp

Mana Pools

Microburst Flood

Microburst Rains

Mossy Den

Niger River

Okavango Delta

Raging Storm

Rain Shelter

Rainy Swamp

Rattling Bog

Saloum Delta
Striking Lightning

Sudd Marshes

The Tornado

Victoria Falls

Rare Items
Cloudburst Mane

Eye Applicator: Cloudy
Eye Applicator: Fog
Eye Applicator: Mist

Murk Mane

Cloudburst Stains

Fiery Unders

Hot Cocoa

Murk Marks

Prune Skin

Murk Body

Applicator Previews
Bases
Murk Base
Base Genetics: Black Medium Countershaded Special
Applied with Murk Body.
Murk Body is purchased from the Flood Pit.


---
Eyes
Cloudy Eyes
Applied with Eye Applicator: Cloudy.
Eye Applicator: Cloudy is purchased from the Flood Pit.


Cloudy
Cloudy
---
Fog Eyes
Applied with Eye Applicator: Fog.
Eye Applicator: Fog is purchased from the Flood Pit.


Fog
Fog
---
Mist Eyes
Applied with Eye Applicator: Mist.
Eye Applicator: Mist is purchased from the Flood Pit.


Mist
Mist
---
Manes
Cloudburst Mane
Applied with Cloudburst Mane.
Cloudburst Mane is purchased from the Flood Pit.


Cloudburst (Cloudburst Mane)
---
Murk Mane
Applied with Murk Mane.
Murk Mane is purchased from the Flood Pit.


Murk (Murk Mane)
---
Markings
Cloudburst Stains

Cloudburst Brindle
Cloudburst Mist
Cloudburst Shroud
Cloudburst Web
---
Fiery Unders

Fiery Belly
Fiery Bottom
Fiery Undercover
Fiery Undershine
---
Hot Cocoa

Cocoa Bottom
Cocoa Lace
Cocoa Undercover
Cocoa Underfur
---
Murk Marks

Murk Crackle
Murk Crumbing
Murk Feline
Murk Shimmer
---
Prune Skin

Prune Bottom
Prune Pelage
Prune Siamese
Prune Undercoat
---